Famaco: Luxurious Leather Care From The Heart Of France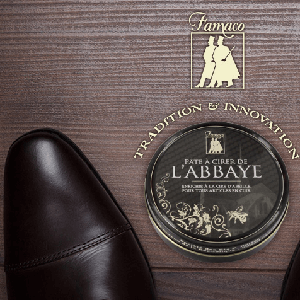 Transforming a family tradition from a local artisanal stalwart to a worldwide leader has been the journey of the Pfirter house of Châtillon, France, just to the southwest of Paris. Monsieur Frédéric Pfirter determined a new course for the family's leather restoration company when he founded Famaco in 1931. Appreciating the unique characteristics of the different leathers used for footwear and other personal items, Pfirter recognized that these premium materials required special care. He then set out to develop a line of products to provide that care that could be used by professionals and individuals alike.
Famaco considers leather a vibrant, living material with an uncommonly fascinating history that deserves naturally nurturing to honor the source. Rather than taking shortcuts or saving money with inferior and potentially harsh chemical ingredients, Famaco insists upon using natural ingredients that clean and condition leathers gently and sustainably.
Beeswax, mink oil and carnauba wax are the types of traditional ingredients Famaco still uses with impressive results, taking even seriously abused and dried out leathers from ruined to ravishing. Known for products like Raviv Cuir, which revives even the most neglected and abused leather, returning it to its natural supple state using botanical and animal derived oils and waxes, the French company refuses to treat footwear, apparel and furnishings as disposable. Your fine leathers will be companions for years to come when treated regularly with these fine European products.
Fashion certainly does not take a back seat in this high-end shoe care range. More than 100 colours are represented in the Famaco shoe polish rainbow, with a variety of creams, pastes, gels and lotions offering these hues for consumer use. Exotic and vintage leathers also have formulas dedicated to their preservation and beautification, the Famaco staff evaluating the special needs of these delicate leathers when crafting products to care for them. In addition, popular finishes such as napped or oiled leathers each need a different approach, and Famaco delivers.
Specialized cleaners and conditioners for every type of leather are available, developed by Famaco's team of dedicated leather care designers. These technicians are trained to know precisely which ingredients work best with different leathers and new products will continue to join the range as they are developed using these guidelines.
The vision of Frédéric Pfirter is continued today into the third generation by Company President Alain Pfirter and his son Bruno. Stressing the balance of tradition and innovation that makes Famaco products superior to others, the Pfirters are committed to sharing with leather aficionados around the globe the high quality treatments and beautifiers they have found to be so very beneficial to fine leathers.
We at Valentino Garemi are pleased and proud to begin offering these premium products for fine leathers, including the Famaco line of daubers, brushes and shoe shine kits. Take your time to browse this magnificent range of French-made shoe and leather care products online in our Canadian leather and foot care specialty store.