Get Your feet summer ready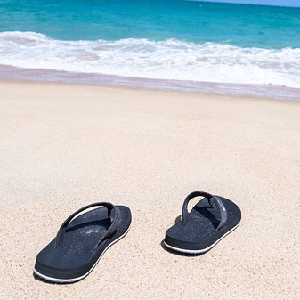 The warm weather is fast approaching and nothing says summer is here like a beautiful pair of sandals! The problem is your feet have been in hibernation for the winter, they are neglected and waiting to wake up and feel the summer breeze but how do you get those feet ready?
Starting with nails, you will need to invest in a quality pair of
toenail clippers
but don't cut them too short or you can risk getting
ingrown toenails
. Make sure that when you cut them you
cut straight
across and use a file to smooth the sharp edges.
Next step, smooth down your calluses with a file or a pumice stone. This will give your feet a smooth texture and take all the extra dead skin away. Make sure you use the correct tools to ensure a smooth finish.
Now it's time to
moisturize
- the product you choose is of utmost importance. You will need something that will smooth and protect the skin on your feet as well as keep them hydrated throughout the hot summer days and here are lots of options that could maintain and improve your appearance.
Lastly, add your favorite polish color to those perfectly cut toenails, grab your most gorgeous sandals and go show the world those stunning feet!